The complete tarroka deck from D&D's 'Curse of Strahd'
|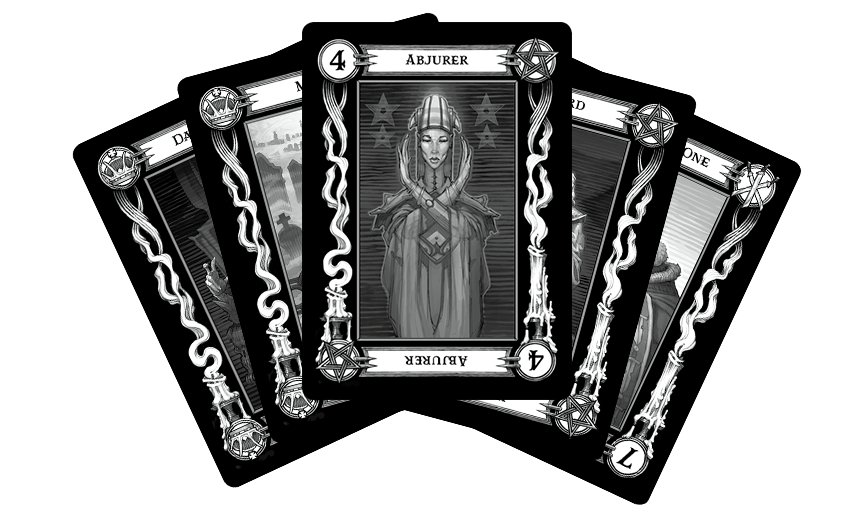 In the new Dungeons & Dragons adventure, Curse of Strahd, players travel to Castle Ravenloft to face the evil forces of the vampire Strahd von Zarovich.
Most important to the 5th edition adventure is the Tarokka Deck, a deck of cards that tells fortunes and guides the players through the adventure.
In Curse of Strahd, the mysterious Madam Eva reveals your fortune and tells you where to find the tools and friends to defeat Strahd within the land of Ravenloft.
The 54-card deck has gorgeous art from Chuck Lukacs, and it has slowly been revealed by the official D&D Twitter account.
The cards have been seen already, but we also love the "fortunes" from the adventure that will help guide adventures through Ravenloft.
The cards are divided into five suits: Stars (magic), knives (warriors and combatants), crowns (evil), seals (townsfolk) and runes/holy symbols (priests).
What do you think of the deck?
Pre-order a tarokka deck from Gale Force 9.
STAR
@rahulkptc A scent of neroli, a flash of copper: it attracts steadfast twig blights. pic.twitter.com/6zFxnOqEjO

— Madam Eva (@Wizards_DnD) February 9, 2016
@RpardoMacias The burning of myrrh reveals you must listen for the next strange cellar. pic.twitter.com/bjVaA9kTQq

— Madam Eva (@Wizards_DnD) February 9, 2016
@Kniteshade1 Spy the concealed cottage but listen for loss. It brings the Once-proud One. pic.twitter.com/08cUFFlMAq

— Madam Eva (@Wizards_DnD) February 9, 2016
@warpeddevotee A troubling fortress: here expect to come upon cedar and terrifying wereravens. pic.twitter.com/K21lzSDno7

— Madam Eva (@Wizards_DnD) February 9, 2016
@CosmicKeyring A misty camp: here you must spy moonseed as well as pitiless bats. pic.twitter.com/N73bX5LXuf

— Madam Eva (@Wizards_DnD) February 9, 2016
@BenMaxTweets Chance upon the destroyed road but watch for bad luck. It brings the Maimed One. pic.twitter.com/3Dlakt82iO

— Madam Eva (@Wizards_DnD) February 9, 2016
@DnDTweets A scent of nightshade, a flash of bloodstone: it attracts mad werewolves. pic.twitter.com/DNoNikBFfJ

— Madam Eva (@Wizards_DnD) February 9, 2016
@sepirothni A broken shop: here you must see camphor alongside distressing werewolves. pic.twitter.com/o5q4eDG2oI

— Madam Eva (@Wizards_DnD) February 9, 2016
@__CallMeJo A ruined path: here expect to encounter hemlock and mad wereravens. pic.twitter.com/0Np2VNNc0i

— Madam Eva (@Wizards_DnD) February 8, 2016
@_Gustav_Black Listen for incense, for it brings zombies and death. pic.twitter.com/nGw6uEot9p

— Madam Eva (@Wizards_DnD) February 8, 2016
@bih237 You shall detect the corpse of a mad werewolf in a razed field. pic.twitter.com/AVGCXheoJ9

— Madam Eva (@Wizards_DnD) February 8, 2016
KNIVES
@rahulkptc A scent of neroli, a flash of copper: it attracts steadfast twig blights. pic.twitter.com/6zFxnOqEjO

— Madam Eva (@Wizards_DnD) February 9, 2016
@funkytanki You must find the corpse of a fallen giant boar in an unusual prison. pic.twitter.com/MpDg7FLkLN

— Madam Eva (@Wizards_DnD) February 9, 2016
@Hauntmaster2014 I see you spy the corpse of a grievous zombie in a ruined shop. pic.twitter.com/LaDppDaiFa

— Madam Eva (@Wizards_DnD) February 9, 2016
@lipskinner I see you come upon the corpse of a cursed berserker in a haunted cave. pic.twitter.com/f2cNCxLnin

— Madam Eva (@Wizards_DnD) February 9, 2016
@moirdin A scorched shop: here you must come upon dragon's blood and fell bandits. pic.twitter.com/wm6czQktN2

— Madam Eva (@Wizards_DnD) February 8, 2016
@CluelessCartog I see you come upon the corpse of a dark scout in a dusty bridge. pic.twitter.com/DAPvRQ9kUq

— Madam Eva (@Wizards_DnD) February 8, 2016
@justicedanielh Soon you will detect the corpse of a remorseless zombie in a burnt-out shrine. pic.twitter.com/kEkh12zqp4

— Madam Eva (@Wizards_DnD) February 8, 2016
@SageAdviceDnD A scent of black locust, a flash of onyx: it encourages steadfast revenants. pic.twitter.com/i4OxDsKabS

— Madam Eva (@Wizards_DnD) February 8, 2016
@OgroPalada The burning of thyme reveals you must heed the next scorched prison. pic.twitter.com/vZwS5ZYCCf

— Madam Eva (@Wizards_DnD) February 8, 2016
@Fiery25123 Beware coal, for it will herald berserkers with misfortune. pic.twitter.com/wNcZlJtgYF

— Madam Eva (@Wizards_DnD) February 8, 2016
@PintGlassPaladn A scent of oleander, a flash of ruby: it will herald diseased scouts. pic.twitter.com/xivHaeJjbd

— Madam Eva (@Wizards_DnD) February 8, 2016
CROWN
@Demorgus Soon you will seek out your enemy in a dark tower. Carry amber to prepare. pic.twitter.com/WmMWbly4q9

— Madam Eva (@Wizards_DnD) February 9, 2016
@PietroCheccucci Find the grieving dusk elf who is haunted by dark dreams and listen for them. pic.twitter.com/gUAY4GBWSv

— Madam Eva (@Wizards_DnD) February 9, 2016
@Miloszek218 Expect to seek out your enemy in a razed abbey. Carry bloodstone to prepare. pic.twitter.com/uYDyYAOJeE

— Madam Eva (@Wizards_DnD) February 9, 2016
@bregmany A werewolf waits in a neglected den holding an enchanted realgar sword. pic.twitter.com/eYt1Y7IdSQ

— Madam Eva (@Wizards_DnD) February 9, 2016
@wraith2100 Seek out the phantom paladin who is many moons dead and beware them. pic.twitter.com/BzM0oUcW3J

— Madam Eva (@Wizards_DnD) February 9, 2016
@the_war_fox Find the pathetic wizard whose mind is broken and beware them. pic.twitter.com/ILPsM4MqkM

— Madam Eva (@Wizards_DnD) February 9, 2016
@3puntidivista You will seek out your enemy in a demolished house. Carry ruby to prepare. pic.twitter.com/uUrEXhHWY8

— Madam Eva (@Wizards_DnD) February 9, 2016
@5ljborgen A man with a monkey waits in a demolished chapel brandishing an enchanted onyx staff. pic.twitter.com/kwatHkU4oe

— Madam Eva (@Wizards_DnD) February 8, 2016
@HandsomeByford In a strange cave The Night Dweller waits. Doomed, you shall retreat… or fight. pic.twitter.com/wdeuAuoefV

— Madam Eva (@Wizards_DnD) February 8, 2016
@darkkisfin Find the defiled man who is guarded by his widow and listen for them. pic.twitter.com/zHYn5tftK2

— Madam Eva (@Wizards_DnD) February 8, 2016
@bzdanny Seek out the handsome townsman who lives in his father's shadow and be wary of them. pic.twitter.com/emMW8FEh08

— Madam Eva (@Wizards_DnD) February 8, 2016
@Namarie Seek out the elder wereraven who must reconcile with his son and interrogate them. pic.twitter.com/fECgJQ78FN

— Madam Eva (@Wizards_DnD) February 8, 2016
@Oskar581Hanna A bride waits in an occluded mansion with news of an enchanted galena knife. pic.twitter.com/VVWrXe9kml

— Madam Eva (@Wizards_DnD) February 8, 2016
SEAL
@LeorBlumenthal A destroyed tower: here you must chance upon black salt alongside cursed bandits. pic.twitter.com/WBHGKaByhC

— Madam Eva (@Wizards_DnD) February 9, 2016
@ArcaneRanga A mystical trail: here you shall detect wormwood and once-proud boars. pic.twitter.com/acNZ4TJECc

— Madam Eva (@Wizards_DnD) February 9, 2016
@FrankClamity Listen for smoke, for it brings townspersons with loss. pic.twitter.com/8JDwqcSadg

— Madam Eva (@Wizards_DnD) February 9, 2016
@arc1221a A scent of camphor, a flash of malachite: it will herald mad rats. pic.twitter.com/5a08xRmkUO

— Madam Eva (@Wizards_DnD) February 8, 2016
@little_dude1313 Beware smoke, for it attracts scouts as well as desolation. pic.twitter.com/3mnoxFdXEg

— Madam Eva (@Wizards_DnD) February 8, 2016
@OctopusOwl A scent of neroli, a flash of moonstone: it will herald mournful townspersons. pic.twitter.com/PgPaqwB8Nx

— Madam Eva (@Wizards_DnD) February 8, 2016
@genereddick Encounter the ruined church but listen for illness. It will herald the Merciless One. pic.twitter.com/9OkutJUEfk

— Madam Eva (@Wizards_DnD) February 8, 2016
@pagangeek A dark bridge: here you must encounter thyme and grievous dire wolves. pic.twitter.com/eNArL5xHhb

— Madam Eva (@Wizards_DnD) February 8, 2016
@andy_angus_axe The burning of thyme reveals you must avoid the next strange village. pic.twitter.com/LYuGda6MOk

— Madam Eva (@Wizards_DnD) February 8, 2016
RUNE
@rahulkptc A scent of neroli, a flash of copper: it attracts steadfast twig blights. pic.twitter.com/6zFxnOqEjO

— Madam Eva (@Wizards_DnD) February 9, 2016
@CharlesCpeacock You must detect the corpse of an abominable wolf in a curious castle. pic.twitter.com/zeb2JTT6Hg

— Madam Eva (@Wizards_DnD) February 9, 2016
@Hauntmaster2014 You will chance upon the corpse of a mournful ghoul in a dusty town. pic.twitter.com/W0XUdXmO3y

— Madam Eva (@Wizards_DnD) February 9, 2016
@circle_bound A moonlit tomb: here you must encounter thyme and, yes, corrupt dire wolves. pic.twitter.com/LzVYSFAkCD

— Madam Eva (@Wizards_DnD) February 9, 2016
@TheMountainStu See the mystical fortress but beware death. It will herald the Blighted One. pic.twitter.com/LGwgIsox2u

— Madam Eva (@Wizards_DnD) February 9, 2016
@notajediyet911 The burning of black locust reveals you must suspect the next blighted field. pic.twitter.com/ZP6uX2xWV3

— Madam Eva (@Wizards_DnD) February 9, 2016
@tito_estrago Listen for storm, for it encourages ghouls and judgment. pic.twitter.com/XopLncyVMN

— Madam Eva (@Wizards_DnD) February 9, 2016
@MikeGBenson You shall detect the corpse of a degenerate wight in a dusty path. pic.twitter.com/XaELS4JjbJ

— Madam Eva (@Wizards_DnD) February 8, 2016
@sloneko102 Come upon the dark workshop but watch for loss. It attracts the Fallen One. pic.twitter.com/TYPJKa1FoL

— Madam Eva (@Wizards_DnD) February 8, 2016
@Hurvos You must detect the corpse of a fell ghoul in a curious market. pic.twitter.com/1O11YKHzKt

— Madam Eva (@Wizards_DnD) February 8, 2016