GenCon 2015 Wrap-Up: Our favorite games, products, new releases
|
We've finally gotten over our post-Gen Con hangover, and we have lots to talk about from the con. Several of Crit For Brains' correspondents hit the event and came back with their favorite games, swag, new products and lots of precious memories.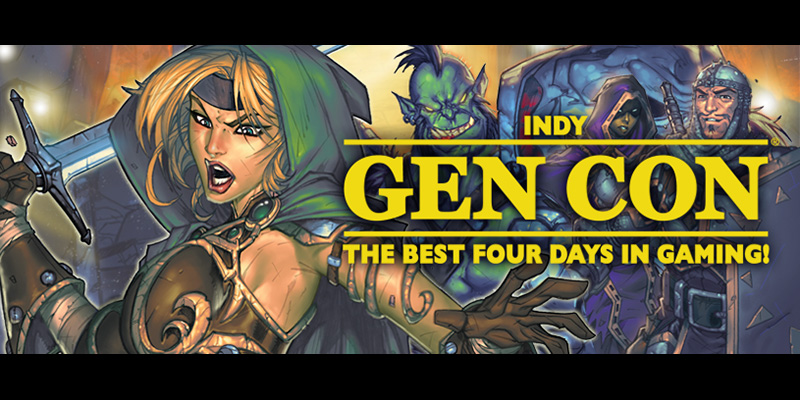 The mass of bodies pressed in, anticipation was heavy in the air. The atmosphere crackled with excitement.
It would be like Christmas, if only Santa Claus were a fantasy warrior – a muscled mad with a jet powered Sleigh and an 8-foot broadsword – rather than a jolly, present-giving fat man.
It was day 1 of Gen Con 2015 and big things (many catastrophic to bank accounts) were about to happen!
We've finally gotten over our post-Gen Con hangover, and we have lots to talk about from the con. Several of Crit For Brains' correspondents hit the event and came back with their favorite games, swag, new products and lots of precious memories.
---
STEVE GORDON:
The best game I played at Gen Con was… a tough call. We played more games we had already than anything else. Wiz-Wars was a huge hit with our crew because it's hilarious, easy to learn and has a fast pace. For me though, Warhammer 40K Conquest was the best game. "The Colombian" and I played it 4-5 times during Gen Con and because of that, I dropped coin on all the expansions.
The coolest piece of swag I bought was… the Imperial Raider for Fantasy Flight's X-Wing Miniatures Game. I waited almost three hours on Day 1 to snag that monster and it was worth it. It wrecks faces, crushes egos, and makes grown men pee themselves. I grabbed a pair of TIE Punishers also, but the jury is still out on those.
I can't wait for Cryptozoic's "Ghostbusters" to be released. "The Colombian" raved about a demo of "Ghostbusters," so that has got my attention for sure. Also, at some point, I want to take a hard look at "Forbidden Stars" (I can't help it I'm a sucker for Fantasy Flight!). I didn't demo it as I had already given FFG too much of my money, but it's Warhammer 40K, it's a strategy board game and it will be mine!
My favorite memory from Gen Con 2015 was… the Imperial Yacht Club.
This year, we debuted the Imperial Yacht Club with a themed T-shirt. It's something I hope we can keep going with a new hirt every year and perhaps create an actual gaming community around it.
As with everything in this crew, the Imperial Yacht Club came about because of some late night gaming. In this case, it was Fantasy Flight's X-Wing game, and it was very late back in March, The Imperials (myself and Neal) rocked a triple Decimator wing which brought forth the comment "Imperial Yacht Club." And the rest is history.
Finally I have to give mad love to anyone crazy enough to rock some cosplay at the Con (there was some great and not so great examples but man, BE YOU and BE PROUD!), the organizers of the Con and of course Jessikah at the FFG booth who helped me out of a jam when she very easily could have told me to buzz right off.
---
FRANK FOULIS
The best game I played at Gen Con was… the D&D Adventurers League game DDEX3-3 The Occupation of Szith Morcane. I ran the game, and it was a fun adventure to run.
The coolest piece of swag I bought was… the limited edition Ancient Silver Dragon from the Icons of the Realms Elemental Evil miniatures set at a great price.
I can't wait for The Ghost from "Star Wars: Rebels" to be released for Fantasy Flight Games Star Wars X-Wing Miniatures Game.
My favorite memory from Gen Con 2015 was… my friends Neal and Adam taking the time to walk the exhibit hall with me during the 3 hours I had free on Saturday between running events.
---
NEAL ADAMSKI
The best game I played at GenCon… this year had to be an event hosted Star Wars Miniatures battle entitled "Assassins". Each player was given a randomly selected two-man squad. Each squad was given "bounties" for the other players in the game. It created an epic last man standing, free-for-all, shoot 'em up and beat 'em down. The game was hosted and ran by this year's Star Wars Miniatures newly crowned National Champion Jim McNaney! Great event, great game!
The coolest piece of swag I bought was… an opportunity to get my picture taken with the lovely and talented Summer Glau of Firefly, Serenity and Terminator: The Sarah Connor Chronicles fame. Easily one of my many highlights of the con!
I can't wait for all kinds of things to be released. his coming fall Fantasy Flight will unleash their newest ships for their Star Wars X-Wing game. Additionally, I demo'd and am psyched to buy the new "Ghostbusters" table top game from Cryptozoic. The game is supposed to encompass not only the movies, but the comics and even content from the old Ghostbusters cartoons of my youth. What's not to like?
My favorite memory from Gen Con 2015, although there were many to choose from, had to be the time spent with good friends doing some of the things we like doing the most…gaming! I got to hang with friends from home, friends from different states and even got to meet new acquaintances along the way as well. But it wasn't just about the time spent playing games. For me, it was also about the smiles, the camaraderie and most importantly the laughs. I'm proud to be part of my little "band of geeks" and a member of the gaming community as well.
I've been attending Gen Con for well over 15 years now, dating back to it's final days in Milwaukee. Each year since arriving at it's new home in Indianapolis has gotten better and better
The 2015 con was no different. I had an absolutely terrific time.
---
KEVIN COLOMBE
The best game I played at GenCon was, without a doubt, "Wiz-War." Even though this particular game has been out now for a few years, I finally had the chance to play it, thanks to my friend Adam. He's been talking it up for some time, and I can see why-it is an intense, no holds barred, take no prisoners, mystical Battle Royale! While Fortnite may have a handle on the Battle Royale genre (get the fortnite pc download here if you want to give it a try), it was fun to sink into something different. We played several times, and even included the Beastiary Forces expansion set in one match. All in all, a VERY cool game.
The coolest piece of swag I bought was… the new package of Forsaken Lands play maps from Maps of Mastery by Christopher West. It includes four double-sided maps of rich, detailed landscapes for any miniature-based games. Also, it came with another four 8×5 terrain cards to alter the printed poster maps as needed for your particular adventure scenarios and three 8×12 maps of coastline features for adding to the printed maps where certain features are required. With so many different map terrains and additional features included in this pack, it was well worth the $50 I spent.
I can't wait for the new "Ghostbusters" by Cryptozoic to be released because… it was SO much fun! Set to be released in October, the version they had available for demo at the Con, while still fairly rough, did not lack for exciting game play. With a thoughtful character design, good game mechanics, quality piece sculpts and the use of a popular, well-recognized franchise, this game is sure to be a bona fide hit once it is released. Despite being priced out at $85, it is a must-have purchase!
My favorite memory from GenCon 2015 was… a playthrough of a reenactment of The Battle of Geonosis for Star Wars Miniatures. A well-planned scenario that recreated this epic scene from "Star Wars: Attack of the Clones," it was laden with all sorts of exciting dynamics, including the addition of pieces throughout the course of the battle as they spawned at various locations on the 3D terrain map.
After some time, it was clear that we were not going to be able to decide the winner in the time provided for the event, so the hosts had the foresight to devise a DRAW scenario, where Count Dooku went head to head with Obi-Wan Kenobi and Anakin Skywalker, much like the end of the film. The final result was a Rock 'Em Sock 'Em, slug it out duel that left Count Dooku victorious over the two Jedi, with only 10HP remaining.
Never in my life have I ever had such a close and exciting finish to a Star Wars Miniatures game! It made for a very intense and memorable occasion. The fact that I was also playing with/against several of my very good friends made it all the more special for me.
---
ADAM DUGGINS
The best game I played at GenCon was… "Mission Red Planet" by Fantasy Flight. I am so excited for the re-launch of this game! Steampunk? Check. Mars? Check. Fuel-driven interplanetary race for resources? Double check. This demo was induced drool and a territorial look at anyone that wondered if I was done yet. A very close second place goes to the crazy fun "Ghostbusters" game by Cryptozoic. Your favorite characters with special abilities and minis that remind you exactly what you loved about the franchise made me want to wrap the demo in a table cloth and run out with it tucked under my arm.
I also wish I had a chance to play "Portal: The Uncooperative Cake Acquisition Game" and their "Attack on Titan Vertical Board Game," but no luck. Just not enough time to sit in those lines! I picked up a copy of "Iron & Ale" purely based on the sales pitch from Table Forged and the possibility of slapping my friends, getting drunk and doing many other ridiculously dwarf things. I also ran through a demo of "Arcadia Quest." This slick game is built in the same universe and style as "Super Dungeon Explore" except not cooperative. Think another video game as a board game with just as killer of a mini set.
The coolest piece of swag I bought was easily my bag of holding – a dice bag designed by Tony DiTerlizzi. I was intrigued by this at first and super stoked as soon as I got my hands on it. Not only is it a FRAKKING BAG OF HOLDING, but it also super high quality and durable. I was also excited to get my hands on a set of custom drinking dice that can make any game into a booz-soaked adventure. As a functioning alcoholic I found great value in this.
I can't wait for… (wait for it)… "Modern Magic!" to be released. How long I've waited to take the fantasy role playing game I love and place it in a modern world. Sure, the future weirdpocalypse that is "Gamma World" was fun, but this is a whole new world. Literally. The thing I'm most excited about that I saw with my own eyes? "Ghost!" I'm already a child's college fund deep in the Fantasy Flight's "X-Wing" game, and this just ensures more future poor children. "Rebels" is more Star Wars than anything in recent memory and I'm jazzed not only for the ships but the pilots and new detaching-ship mechanics.
My favorite memory from Gen Con 2015 was gaming with my bros. As much as I love just walking the con floor and be a part of this madness, getting the opportunity to try new games and play old favorites for 10 hours a night is just an experience of a lifetime every year. I come home refreshed and exhausted and the same time… and ever more excited for GenCon next.