How 'Population: One' has become my nightly gaming ritual
|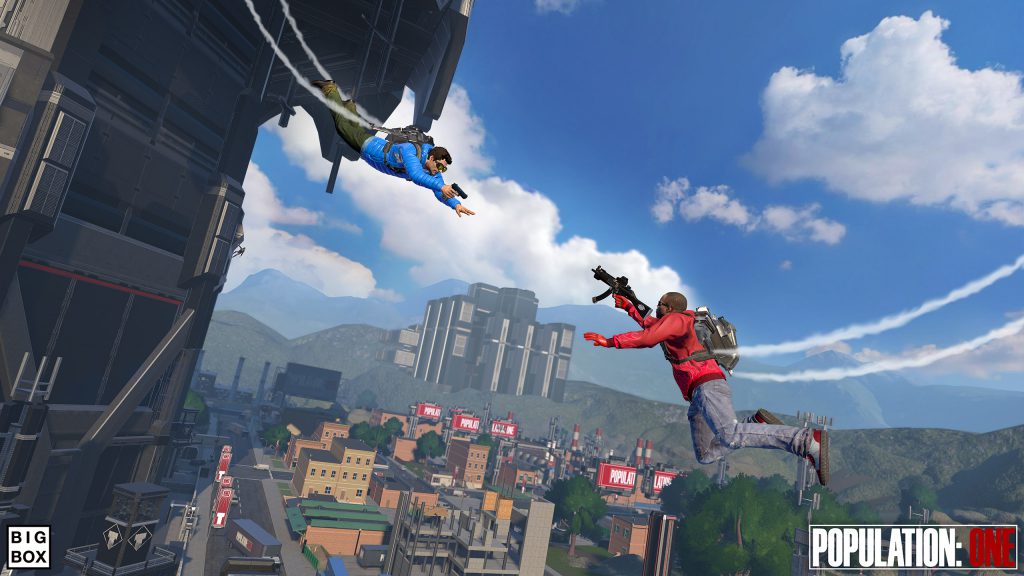 Sometime last year, I bought an Oculus Quest.
I tried some of the first-person shooters but they were either not my favorite or gave me way too much motion sickness. (I usually do fine, but some games feel like a punch in the stomach.) I did the standard stuff as well: Played a lot of Superhot and Epic Roller Coasters, checked out the new Beat Saber mods, and played some of the other free virtual reality games, too.
But I wasn't playing every single day.
Until I met Population: One.
My good friend picked it up around the time it launched last year. From developer Big Box, Population: One is a first-person shooter battle royale. Kinda like Fortnite. But better. Way better. Way, way, way better. (Full disclosure: I kinda hate Fortnite.)
I had seen trailers for it, and the "climb anything and then glide around" aspect – which Big Box calls the Vertical Combat System – looked intriguing.
But I was just waiting on it, for some reason never pulling the trigger. Until my friend Ian finally convinced me to get the damn thing and play. Population: One doesn't have solos. It's mostly played on three-person squads, and Ian was tired of getting paired with randoms all the time. He'd have a squadmate, even if I wasn't that good at first.
I've been in love with VR for a long time, but it was always more or less inaccessible. I played VR in an arcade one time as a kid, and though it cost $20 for a 10-minute session and the graphics were worse than Goldeneye, I was fascinated. So since retail VR headsets were available, I've wanted one. I tried Ian's PlayStation VR a couple times and was fascinated. But without a PS4 or the money to spend on those initial headsets, which cost upwards of $1,000, I just had to wait.
Enter the Oculus Quest. Being relatively affordable and a standalone headset, the Quest was the right purchase for me. And my wife and I love VR so much that we ended up buying an Oculus Quest 2 after that were released. (Being $100 cheaper than the initial Quest helped, too.)
And though I love Beat Saber, it's just not that immersive. I always hoped I'd find something that felt like a different world. (And though I'm fine with story games, I don't love being on a rail and just experiencing something. I wanted to play a full game in another world.)
Enter Population: One.
It's a whole world, and I love running around in it.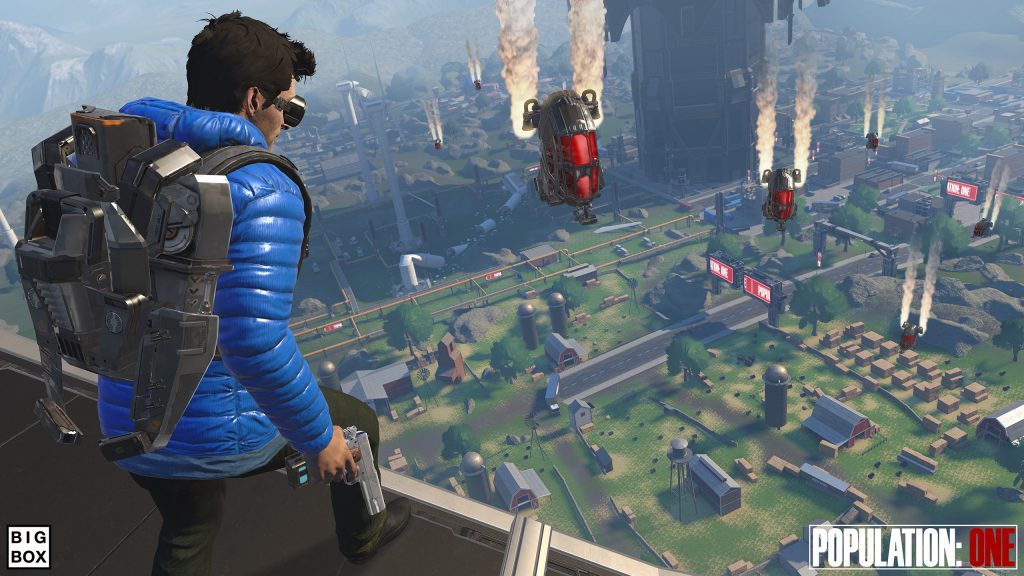 Like other battle royale games, there's a giant map divided into distinct areas. There are hills and a farm and air turbines and an armory and a satellite observatory and, my personal favorite, a cemetery and church. Each area is filled with loot of varying rarity, so looting and scooting before you engage with other players is the name of the game.
The standard mode is squads, where six groups of three-person squads battle it out across the map. Another mode, war, was recently introduced and includes two large teams.
Teams launch from platforms, either hopping into pods that evenly distribute teams across the map or jumping straight off the platform and hot dropping into the area below, which usually results in chaotic and fast (but often really fun) gun battles. If you die, you become a ghost and can be revived by teammates with defibrillator paddles.
A moving storm that deals damage keeps teams moving toward each other. You can climb literally anything, including the massive and foreboding tower in the center of the map. You can also fly by sticking your arms out to your sides to make a T pose. You'll glide around from place to place, picking your spots and moving around with your team.
Everything adds to the larger strategy, but communication is the key to this game. You won't want to play with your microphone off, as calling out enemy locations and loot as well as discussing strategy (flanking, sniping, engaging, pulling back, letting two squads battle it out rather than rushing in) are more important than your aim.
Winning isn't easy, and it'll be a combination of strategy, communication, gun skills and plain old luck to pull out a victory.
The communication and strategy is what I find the most fun. Yes, this is VR and you're immersed in the world. But the communication makes it feel like a community, and the random pairings with others make it fun, especially when you find compatible squadmates.
Right now is a good time to get into the game as well.
Season 1: Uprising is nearly here!

Five new weapons and items are at the ready. New Bureau and Seeker characters, social features and more are packed into this massive content drop.

Combat will never be the same. 2/25/21#pop1 #popone #population1 #populationone pic.twitter.com/WD6npjOTET

– POPULATION: ONE (@populationonevr) February 24, 2021
Tomorrow marks the launch of Population: One's Season 1. The game has had seasonal events since it's launch late last year and a multitude of new player and gun skins for purchase. (Microtransactions are totally optional and for cosmetic items only. You won't get better loot by paying for it, thankfully, and you know what you're paying for. There aren't any random items or loot boxes.)
Season 1 will see some of the game's lore open up. What is that tower? Who controls it? Why are these people fighting each other? What is the bureau?
More importantly, it'll introduce new items. The game already has an assortment of assault rifles, sniper rifles, pistols, shotguns and SMGs as well as other items. The new season will introduce melee weapons (a knife and a katana that generates a bullet-blocking shield), a new type of grenade, new power ups and a light machine gun.
There are new skins and the map will also be altered, giving new bases to the Bureau and the Seekers. There will also be welcome social features such as new player cards, sprays and a grand finale tournament.
The game. The active community. The constantly evolving new features.
Because of all of that, I've been playing Population: One nightly for months now. I take work breaks to play in the afternoons. I squad up with friends in the evenings. I practice against bots. I actually buy the new player and weapon skins, something I don't do on most games. This has become my favorite game to play, meaning my Quest 2 gets used constantly and my brand new Xbox sits unused most days.
So if you're looking for me in the coming weeks, you'll find me in Population: One.
Happy hunting.