Introducing the Crit For Brains SHOP!
|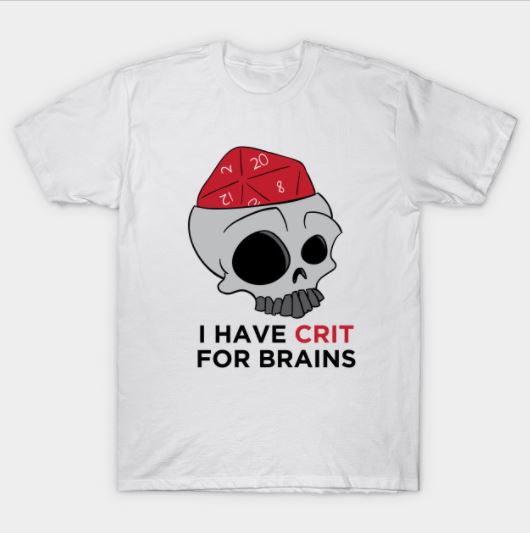 Welcome to the Crit For Brains store!
We're selling gaming T-shirts on TeePublic, and our first one is the classic Crit For Brains logo design.
We'll be honest: T-shirts aren't new or exciting. Doesn't everyone on the Internet sell T-shirts?
But what is exciting is our products: We're creating good designs that you'll actually want to wear. I've seen a lot of gaming, D&D and RPG shirts that frankly kind of suck. They're poorly designed, they're not clever and they all play on the same five ideas.
Our shirts are the kind of stuff I'll actually wear in public.
And I think you'll want them, too.
We're designing shirts you'll rock on game night, wear to this weekend's tournament or sport during a convention sometime this summer.
(All of our designs will also be available on phone cases, notebooks and all kinds of other stuff.)
For the next couple months, we'll be launching shirts regularly via our store on TeePublic. If you snap one up in the first 72 hours after launch, you'll get it for $6 off. (No code required. They're discounted automatically.)
You can find out when we launch new shirts via our Facebook, Twitter and Instagram.
Let us know what you think of our designs! We'd appreciate the feedback.