What's In The Box?! Dungeon Crate, May 2021
|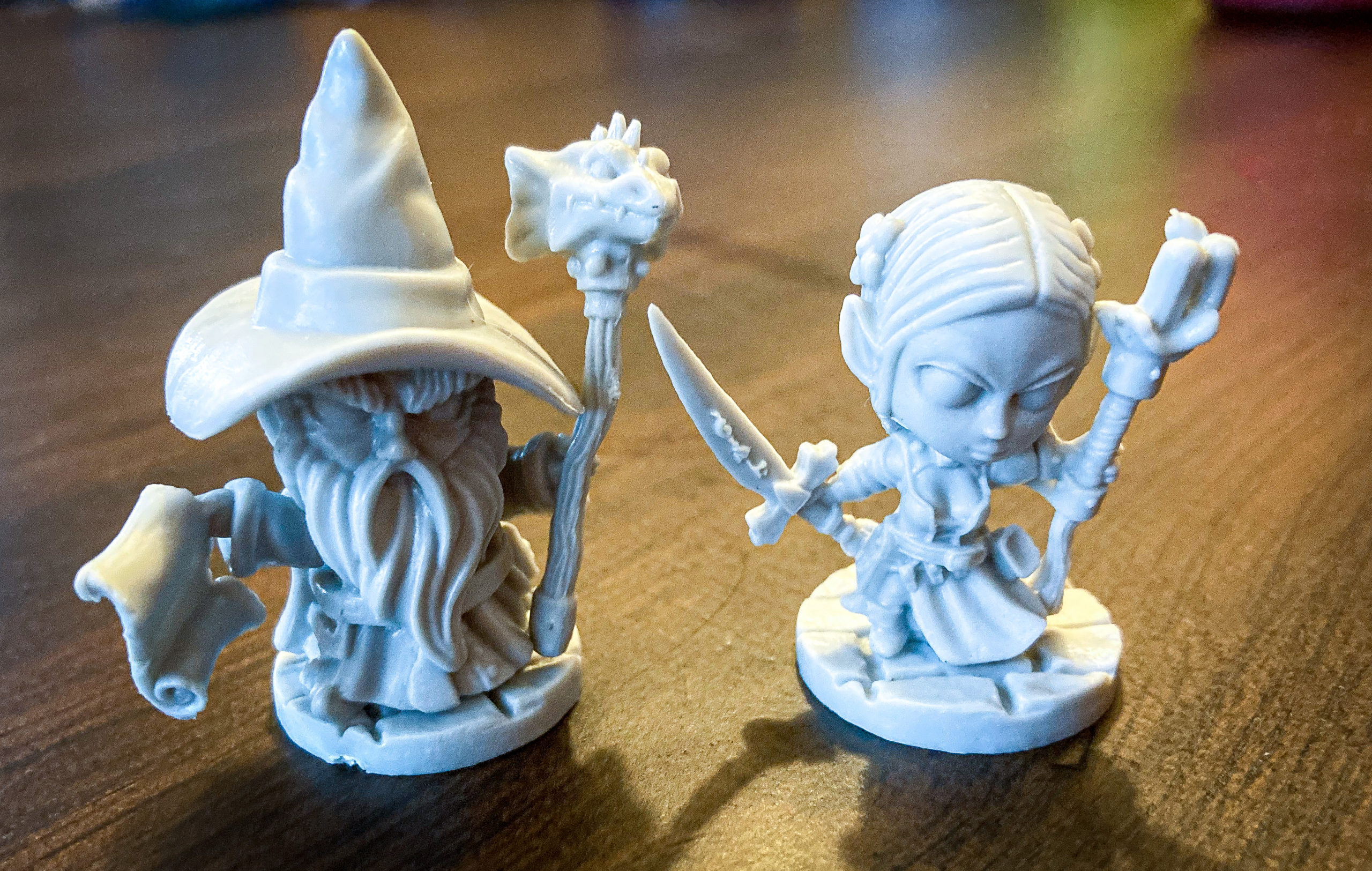 What's In The Box?! is a review series where we unbox and examine nerdy stuff!
Dungeon Crate is a monthly subscription box filled with stuff for your D&D, Pathfinder and tabletop RPG games — miniatures, dice, adventures, maps, art, tokens and everything you'd use at the tabletop.
May's Dungeon Crate was packed with all kinds of good stuff!  We took it all out and gave it a look.
Let's get into it.
Elemental Ink Pen Set
This truly cool set of pens will set you up for epic handouts and secret messages at the game table. Write on a sheet of paper then expose it to heat. The words will disappear. Expose the paper to cold and — voila! — it reappears again.
Use it to make secret maps, pass messages around the table, include surprise notes within documents or do some seriously magical tricks in front of your friends' eyes.
I did a quick test, and heat (like from hitting it with a hair dryer) made the message invisible. Placing the same page in the freezer brought the message back, though surely you can think of some more dramatic ways to make the big reveal.
Parchment Notepad
Good for taking notes or, y'know, writing secret messages with your new rad pen set.
Magical Creature Snack Sticks
From Mythical Meats, these meat sticks are labeled as one of several magic creatures. The one I got was from a Pegasus, and it was delicious!
But for real, they're made with less common (and and non-magical) meats such as antelope and buffalo and mixed with beef or pork. Pegasus is a mix of beef and antelope, and it was really good. Basilisk, which I've also tried, is made from alligator, and it's spicy and tasty.
Small World Miniatures
These chibi minis from Reaper are amazing. Galladon (a Gandalf-like wizard) and Lysette (a vampire) are ready for painting. I think I'll be ordering more of these to complete the set.
Adventures and Handouts!
This box contained a trap chart, a set of random room cards and a guide to hunting owlbears. The hunting guide is pure fluff with optional rules for DMs, but it's a whole lot of fun. The trap card had four traps themed with the title Crusaders of the Lost Skull Temple, so think flames, scorpions, acid and mechanical contraptions — all stuff Indiana Jones might face. Finally, the random room cards are just that: Random rooms for when you feel like a truly classic dungeon crawl where ever new area is a mystery to both DMs and players!
Paint Brush
Who doesn't need another brush? You can never have too many.
Salamadon Demon Art Print
By Matt Owen, the artwork of this demon looks nasty.
Extras
I love that the folks at Dungeon Crate always throws a few fun things in the box. Mine had a sticky little wall-crawling dragon and a bookmark (one side with a tab to write something on it and the other with a map of a train track). Awesome stuff.