Review: 'Descent Into Avernus' dice and miscellany set is what you need for a new campaign
|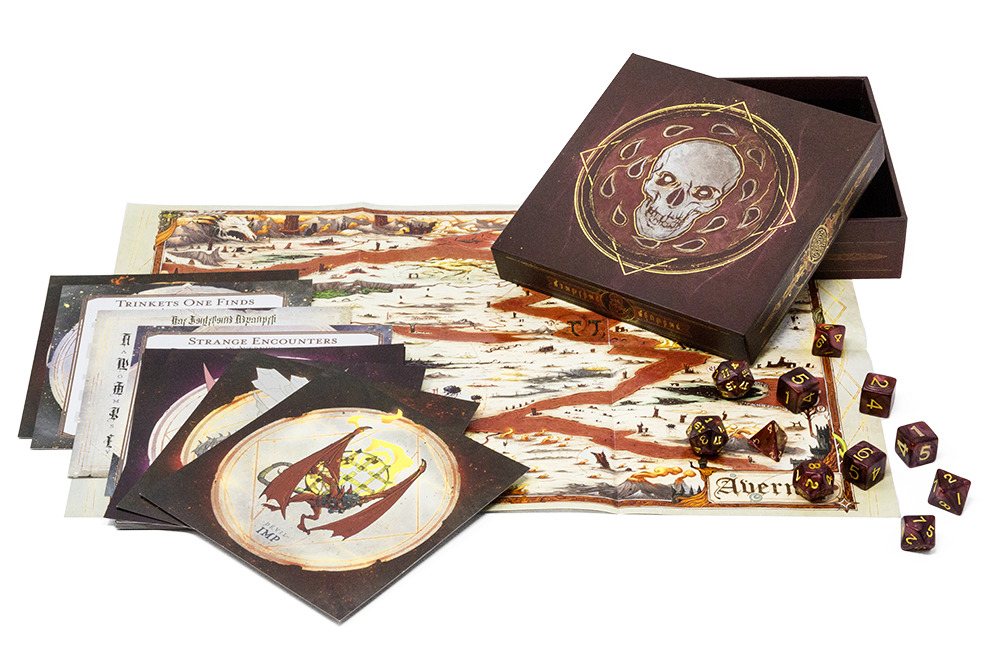 This isn't the first official dice set created for a brand-new D&D adventure.
But it might be the coolest.
With Baldur's Gate: Descent into Avernus on the way from Wizards of the Coast, they produced an accompanying dice set with a few fun extras. (Technically, this product is labeled "Dice & Miscellany" because there's a lot more than dice in this little box.)
The set retails for $24.95, a liiiiittle pricey for a dice set, but you're getting a lot more than dice and you just might be all-in on Descent Into Avernus.
I'll be honest: I was disappointed with official D&D dice sets in the past. They were actually pretty decent dice but, frankly, the price was too high to justify what was simply a dice set and a tin.
But the Avernus set has more. Much more. And the extras are useful, entertaining and pretty cool.
Let's start with the dice: They're red, maroon and purple swirls with gold ink, and they look quite cool. The numbers are BIG and easy to read. The dice colors are consistent, and I really love the gold numbering. (They're easy to read.) They're standard size and will fit well with your other sets. The material is a little light, and it may make them feel different in your hands, but they seem to roll well.
It's also an 11-piece set, which is perfect for 5th edition. (Your standard 7-piece RPG set has a d20, d12, d8, d6 and d4 as well as two d10s.) This one has two d20s to utilize 5e's advantage/disadvantage mechanic, and four total d6s, because a variety of classes roll multiple d6 for damage.
The dice come in a pretty, felt-lined dice box. It's printed paper glued to cardboard or plastic, but it's not flimsy. The artwork comes straight off of the Descent Into Avernus game store-exclusive cover, and they make a perfect pair. The dice box even has the foil accents.
Inside the box was the rest of the miscellany: A stack of glossy papers depicting demons and devils that adventurers might encounter in Avernus. The reverse of each paper (they're just a little too thin to be called a card) included a description from Volothamp Geddarm, he of Volo's Guide to Monsters fame.
This is one of the coolest parts of this set but also the one that could use more work. The papers are neat tools for Dungeon Masters to use at the table when they want to show their players exactly what an infernal chicken or balor looks like. (A fold-out mini poster that depicts the relative size of each of the demons and devils is a nice touch, too. The reverse is an illustrated map of Avernus that's also in the Avernus adventure module.) But I wish the papers were printed on slightly thicker cardstock and that they had monster stats on the reverse rather than Volo's journal entries. As a DM, I'd use them more frequently.
From Wizards' perspective, I could see how the cardstock could make the item more pricey and that players might be buying the dice to use in their Descent Into Avernus campaigns, so giving away monster stats might be a bad idea. (And Volo's info occasionally serves as a guide on how to defeat them, which is clever.)
Also tossed into the stack of cards are two exclusives: A trinket table for items one might find in Avernus as well as a "strange encounters" table specifically for the realm. Those are neat little tools that I'd use constantly if I were DMing this adventure.
My concerns with this set are, all-in-all, really minor and particular to me. Most people will probably dig this set, especially if they're excited about launching this campaign. It's one of the best side products Wizards has released for its storylines.
I hope they continue to release a similar product with future modules.
Baldur's Gate: Descent Into Avernus Dice & Miscellany retails for $24.95 and will be released on Sept. 17.