Review: Citadel Painting Handle is our new favorite
|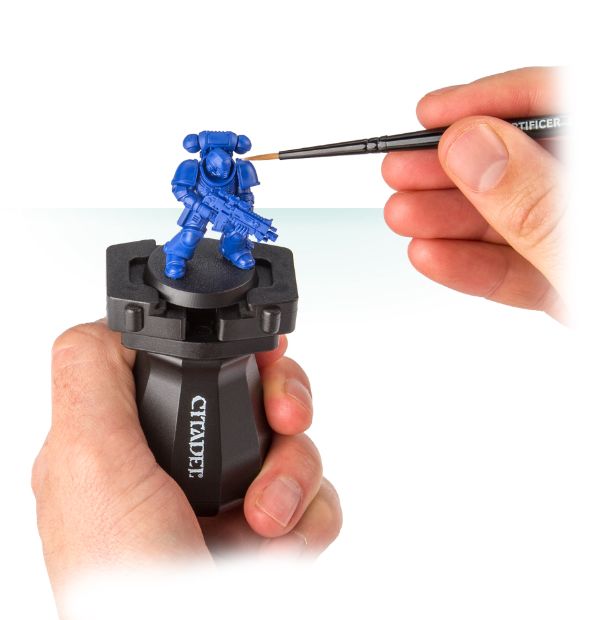 The Citadel Painting Handle is a simple but brilliant item.
The little plastic device from Games Workshop is already making our painting sessions so much better.
We picked up the Handle over the weekend, and it's well worth the $8 price tag. (It's also quite a bit cheaper than similar items.)
A rounded handle that fits easily in your hand with a small spring-loaded top, the handle spreads apart on top and has two tabs cut into it. Smaller minis will fit into the smaller tab and larger ones will fit into the larger tab.
It also has a flattened bottom, which lets you set it down whenever you need to.
Easy stuff.
It's clearly designed to hold Warhammer miniatures while you paint, and the box advertises how it will fit that line's 25 mm, 32 mm and 40 mm bases.
But we tried it on a variety of different miniature from various lines.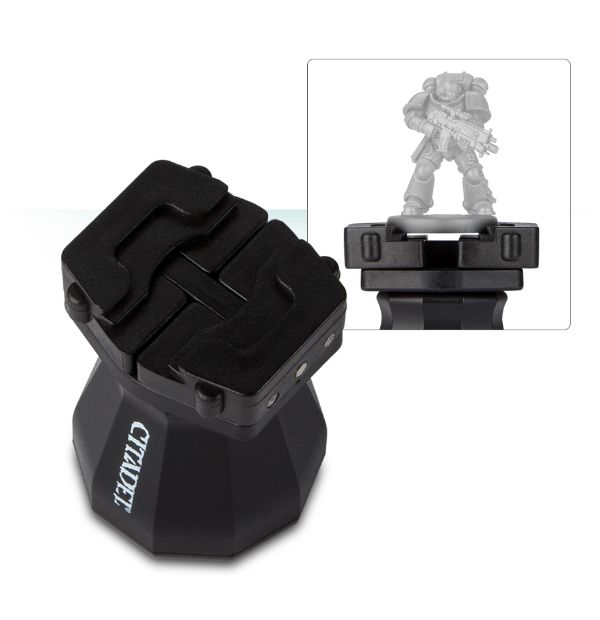 The result: It'll hold just about any miniatures from any line, and it doesn't even have to be on a round base.
A few caveats: Big miniatures (larger than 40 mm) won't fit. (The springs simply won't let you pull it that far apart. That said, the top unscrews from the handle making me wonder if they'll release a larger attachment later.) And your minis have to be on some kind of a base. It won't hold minis still stuck to their metal or resin tabs or, say, the foot of an model sans base. (There's simply not enough tension to grip something that slim. We tried multiple ways. It won't work.)
But the handle did work with just about everything we tried: Infinity minis on Warsenal bases, Reaper minis straight out of the box, unpainted D&D minis on flat round bases, Warmachine/Hordes models of various sizes.
We tried small, medium and large pieces from all of the above.
Almost everything clicked into the handle just fine.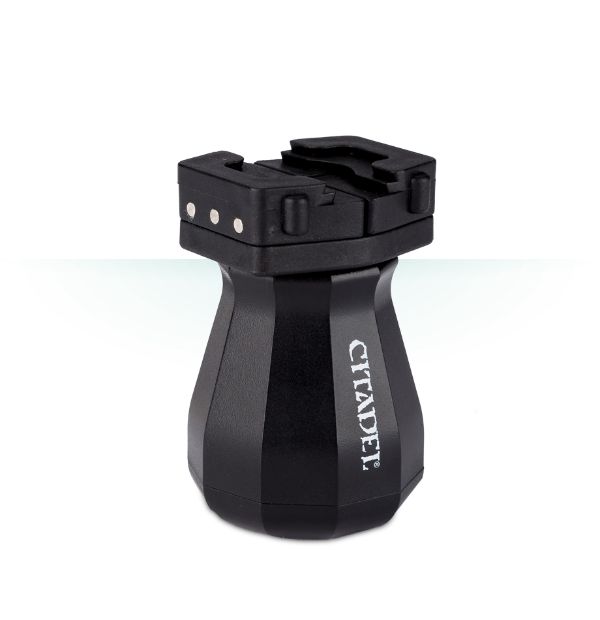 It won't drop your precious models either. There's actually enough tension to hold a model by its head and wiggle it around without the handle falling off. That's secure enough for us.
It's nice to hold, and while using it, my fingers didn't cramp up or get tired the way they sometimes do in a marathon painting session where I'm holding a model by its tiny, thin base.
The only problem some painters may have is painting at some extreme angles. The handle is wide enough that it might be hard to reach a brush on the, ahem, undercarriage of their models.
But it's not something I'm worried about. Re-positioning the model in the handle did the trick every time.
The Citadel Painting Handle is already an irreplaceable piece of our painting sessions.
You ought to get one.