Kickstarter of the Week: Numenera: Into the Ninth World
|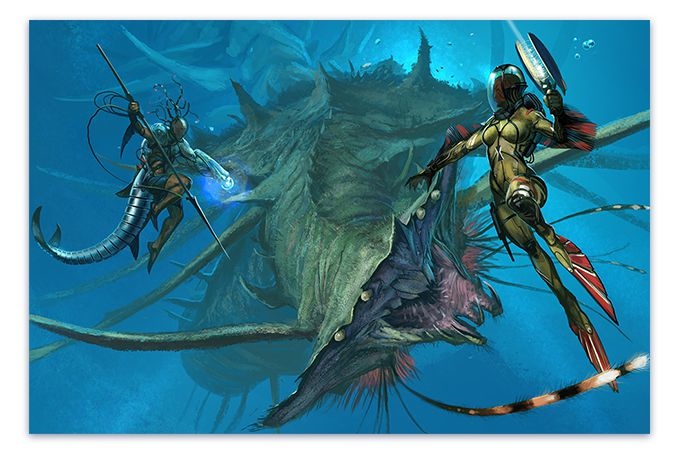 Numenera is the number one game I wish I had the time to play.
Between the game's current Kickstarter and its last one, I've been very tempted to throw lots of money at Monte Cook Games for a taste of its very awesome-looking RPG.
Set a billion years into Earth's future, Numenera takes place in the Ninth World, a place of danger, beauty and wonder brought on by a succession of great civilizations. It has uber-cool futuristic sci-fi, the scariest nightmare fuel monsters around and some seriously weird stuff, and it is awesome.
The last Kickstarter produced the Ninth World Guidebook, and this Kickstarter will fund Into the Night and Into the Deep, a pair of sourcebooks that will venture beyond Earth and delve into the deep and frightening sea. Also coming will be Into the Outside, a book exploring pocket dimensions and parallel universes, and an artifact deck to help GMs with inspiration and game prep.
There are still two weeks to go, and this project has already raised more than $200,000. The project has a lot of pledge options and add-ons that include eBook versions of the new sourcebooks (and the previously released core book, too), print editions, slipcases, poster maps, card decks and a novel.
Some packages will let you playtest the new sourcebook material or game with Monte Cook himself.
Whether you're interested in the game already or a beginner, there are a lot of great options.
Now I just need to carve out some time and get into Numenera. I imagine I'd get lost in this RPG.