Q&A: Clichéa map artist talks about the world map that's been all over social media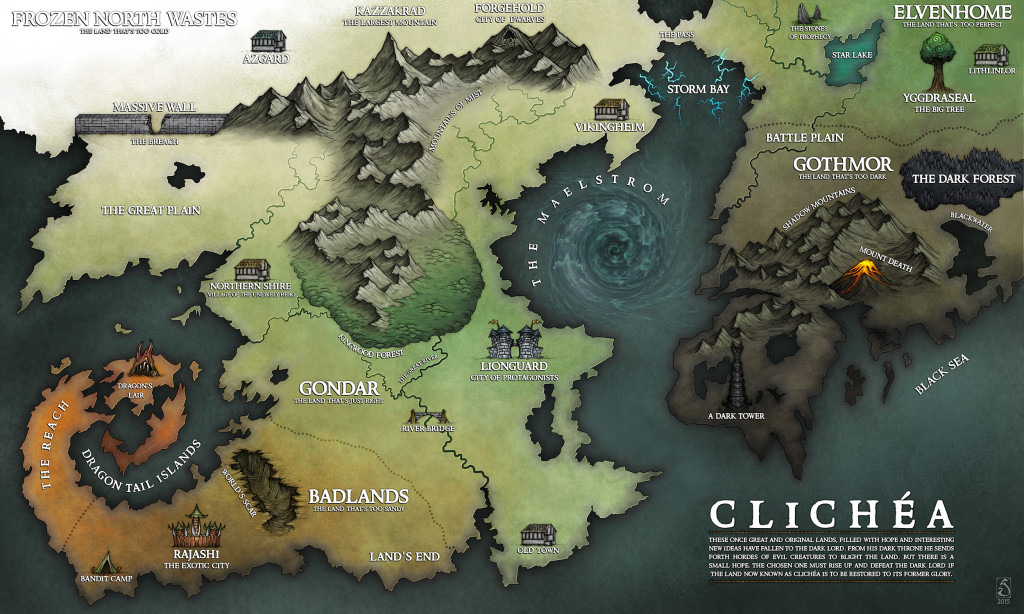 You've probably seen Clichéa.
The world map created by cartographer Sarithus has been all over the web, and if you're a fan of Tolkien, fantasy fiction or tabletop role-playing games like D&D, you've probably seen it pop up on Imgur, Reddit or Facebook.
It's both a really well-made and artistic map and a hilarious dig at fantasy tropes. There's the "Shadow Mountains," which sit next to "Gothmor, the land that's too dark." There's also "Lionguard, city of protagonists" and also "Yggdraseal, the big tree," which resides in "Elvenhome, the land that's too perfect."
If you grew up on Tolkien or D&D, you're going to have a good laugh at this one.
We spoke to Sarithus (real name Ryan Hood), a Scotsman now residing in England,  about the map, and why he created it.
You can also check out some work-in-progress images below. (Click to open expanded versions.)
If you're into map-making, Sarithus' Cartographer's Guild thread on how he made the map is a good read.
Amazingly, he only got into making maps a few months ago. We'd say he's already killing it.
Crit For Brains: When did you create the map?
Sarithus: I started making the map just over 3 weeks ago now.
CFB: What was your inspiration?
S: My inspiration is the fantasy genre itself, really. I'm a huge fan of Tolkien, as you might have guessed from looking at the map, but that doesn't mean I'm not willing to look at his works and other fantasy media cynically.
I know a lot of people could point out the tropes in fantasy, I just put it in map form. I'm also a former long term World of Warcraft player so that very much inspired me as well. I had Stormwind in the back of my mind when drawing Lionguard, for example.
CFB: How long did it take you?
S: I couldn't give you an accurate or even vague description, I'm afraid. For the first few days I worked on it pretty much all day, but eventually I would open up the file and just tweak a few things so I didn't really keep track.
CFB: Have you seen it all over the web like I have? 
S: Well, I posted it to various map making sub-reddits and I still can't believe it's gotten to 'top of all time' on both /worldbuilding and /imaginarymaps. Since then I've been getting lots of very kind and encouraging messages from people saying they've seen it on Facebook and people have been posting it to their sites.
I've never had anything close to this amount of feedback before. It's crazy.
CFB: Why did you decide to make it?
S: I made it for the Cartographers Guild Lite Challenge. I had the idea for the map in the back of my mind and when I learned of the CG's Lite Challenge and that you could do whatever you wanted to do I decided to go for it.
CFB: How long have you been making maps?
S: The reason you see so little maps on my site is because I've only been making them for about 3 months now. They are in order so hopefully each one gets better and better as I'm still learning a lot with each map.
CFB: Have I seen your work published anywhere?
S: All of those maps are personal ones not done for any client. I've only recently started offering commissions.
CFB: Are you a gamer?
S: I don't play much games nowadays. I used to be a pretty avid console gamer and I played a lot of games like Dragon Age, TF2, Minecraft, Hearthstone, Diablo, etc,, on PC, but as time went on I sort of just stopped playing. Now I don't even play World of Warcraft, and I played that for 8 years.
As for traditional tabletop games, I'm ashamed I've never played D&D or anything like that. I did however get a pretty casual game called 'hobbit tales from the green dragon inn' recently.