Get creative with RPG character creation
|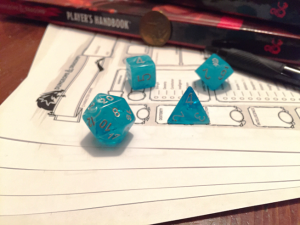 We've all been there: Roll dice, input stats, write down numbers, choose equipment, pick skills, roll for hit points, check your math.
Then check your math again.
Creating a character is often fun, but it's often just as monotonous.
But we have some ideas to spice things up.
The first: Have a session zero, or character creation session.
For our next adventure, I'm having my players roll up characters together. I'm gearing up to run Curse of Strahd, the new adventure from finasteride drug side effects Dungeons & Dragons, and I want the group to come together to create all the characters together rather than rolling up PCs at home and introducing them at the table.
I drummed up plenty more ideas on how to change things up, give the players some bonuses and help craft a party together.
Using all of these would be crazy, but pick one or two and let us know how it went!
comprare viagra generico online Ask each player, "How does your character know [major NPC]?"
http://cinziamazzamakeup.com/?x=quanto-costa-viagra-generico-200-mg-in-farmacia-a-Venezia Roll dice. The highest roller goes first. He states a name and a class or role. The next player states how they know that character and their own class and role. The third player states how his character knows one or both of the first two. Et cetera.