Kickstarter of the Week: Posthuman pits you against the apocalypse
|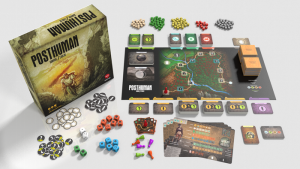 The world, as you know it, has ended.
As one of the last survivors of humanity, you are trying to get to a far away rumored fortress with limited resources, hunger and weather blocking your way.
Oh, and mutants. Mutants are everywhere. They'll try to bite and scratch you to turn you to their side.
Welcome to "Posthuman," a game from Mighty Box and Mr. B. Games raising funds on Kickstarter right now.
It's a survival game for 1 to 4 players (and up to 6 with an expansion) where you make the lonely journey. You may pick up followers or encounter other players and trade items with them unless, of course, they've been turned into mutants already.
A base pledge of $52 gets you the core game (play mats, game tiles, character sheets and countless cards and tokens) . Stretch goals currently include extra characters, weapons, locations, custom dice, meeples, extra encounters and the aformentioned expansion pack.
Honestly, that's a ton of game for only about $50 (plus shipping).
"Posthuman" has raised more than $167,000 so far. You can donate to the Kickstarter here.